This page lists third-party tools for use with Master of Orion.
List
[
]
Antares
[
]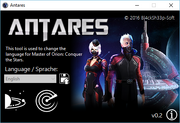 Antares allows you to edit some hidden settings which are not available in the game interface. Right now it allows you to do the following:
Change the interface language to and from: English, Russian, German, French, Polish, Czech, Turkish, Spanish (Spain), Spanish (Latin America), Portuguese (Brazil), Korean, or Japanese. Note: not all languages are fully supported and completed yet.
> Download latest version | Website
Extractor
[
]
C# source code for extracting game resources. GitHub Gist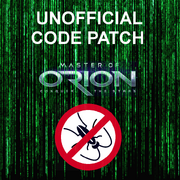 Unofficial Code Patch (UCP)
[
]
Unofficial Code Patch - Corrects a few hundred bugs and adds some additional features to the game.
Unofficial Code Patch on this Wiki
Unofficial Code Patch on ModDB